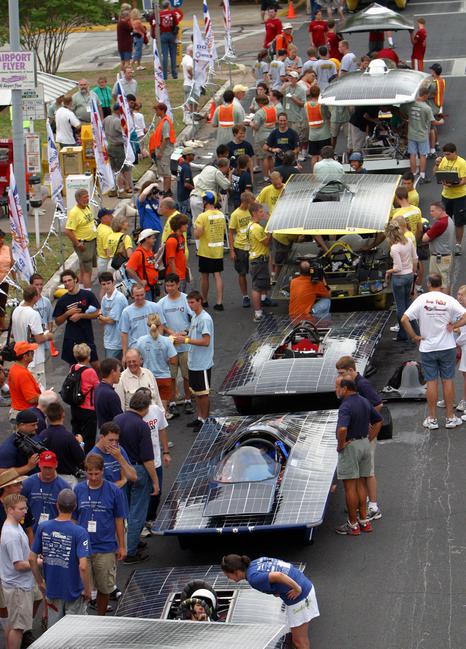 View Original Image at Full Size
Twenty university teams from across the U.S. and Canada prepare to take off from the start of the North American Solar Challenge, in Austin, Texas Sunday, July 17, 2005.
Originally uploaded in SISL.
Image 39576 is a 2000 by 1435 pixel JPEG
Uploaded: May2 13
Last Modified: 2013-05-02 15:35:22
Permanent URL: https://serc.carleton.edu/download/images/39576/solar_cars.jpg
The file is referred to in 3 pages
Engineering


https://serc.carleton.edu/sisl/sustain_in_engineering.html

6. Energy Use


https://cleanet.org/clean/literacy/energy6.html

6. Energía usada


https://cleanet.org/clean/literacy/energy/spanish/energy6.html
Provenance
NREL - photo by Stefano Paltera
Reuse
This item is offered under a Creative Commons Attribution-NonCommercial-ShareAlike license
http://creativecommons.org/licenses/by-nc-sa/3.0/
You may reuse this item for non-commercial purposes as long as you provide attribution and offer any derivative works under a similar license.