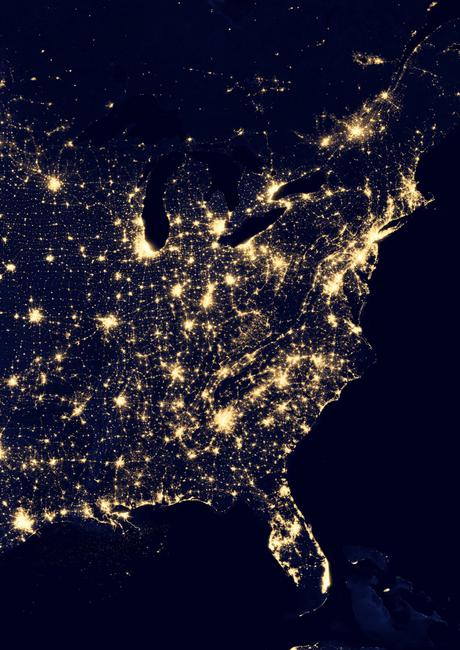 View Original Image at Full Size
This view of Earth's city lights is a composite assembled from data acquired by the Suomi NPP satellite. The data was acquired over nine days in April 2012 and 13 days in October 2012. It took 312 orbits to get a clear shot of every parcel of Earth's land surface and islands. This new data was then mapped over existing Blue Marble imagery of Earth to provide a realistic view of the planet.
Credit: NASA Earth Observatory/NOAA NGDC
Originally uploaded in CLEAN:Teaching Climate and Energy.
Image 38761 is a 1280 by 906 pixel JPEG
Uploaded: Feb6 13
Last Modified: 2013-02-06 18:22:20
Permanent URL: https://serc.carleton.edu/download/images/38761/earth_night.v3.jpg
The file is referred to in 2 pages
Provenance
Credit: NASA Earth Observatory/NOAA NGDC
Reuse
This item is offered under a Creative Commons Attribution-NonCommercial-ShareAlike license
http://creativecommons.org/licenses/by-nc-sa/3.0/
You may reuse this item for non-commercial purposes as long as you provide attribution and offer any derivative works under a similar license.