Atmospheric CO2 and Ocean pH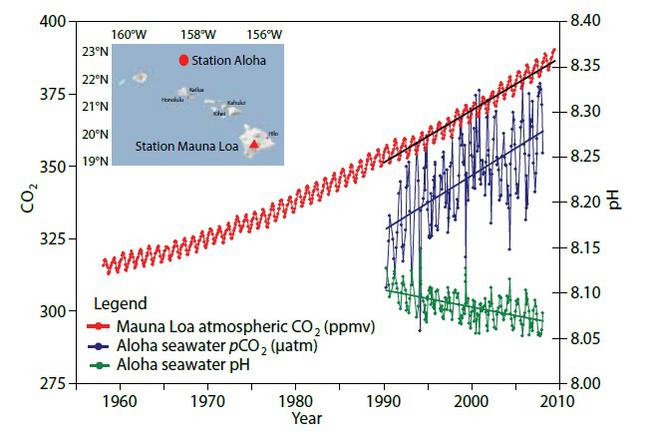 View Original Image at Full Size
Time series of atmospheric CO2 at Mauna Loa (in parts per million volume, ppmv; red), surface ocean pCO2 (µatm; blue) and surface ocean pH (green) at Ocean Station ALOHA in the subtropical North Pacific Ocean.
Originally uploaded in CLEAN:Teaching Climate and Energy:Tools for Educators:Workshops:Climate Complexity Workshop 2012:Workspace.
Image 33568 is a 437 by 652 pixel JPEG
Uploaded: May15 12
Last Modified: 2012-09-07 13:29:13
Permanent URL: https://serc.carleton.edu/download/images/33568/co2_ph.jpg
The file is referred to in 2 pages
Provenance
Image from The Ocean Observations Panel for Climate (OOPC), from an original image by Scott C. Doney et al.,2009: Ocean Acidification - a critical emerging problem for the ocean sciences. Oceanography, Volume 22, Number 4.
http://ioc-goos-oopc.org/state_of_the_ocean/acid/
Reuse
If you wish to use this item outside this site in ways that exceed fair use (see
http://fairuse.stanford.edu/)
you must seek permission from its creator.