clean_review_process_image_resized.png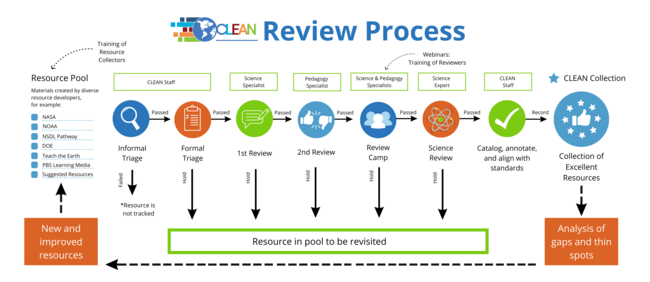 View Original Image at Full Size
The CLEAN Review Process including informal triage, formal triage, 1st and 2nd review, review camp, science review, catalog, annotate, and align with standards, and then the finalized CLEAN Collection.
Originally uploaded in CLEAN:Climate and Energy Educational Resources:About the CLEAN Collection.
Image 262401 is a 2496 by 5760 pixel PNG
Uploaded: Jun14 22
Last Modified: 2022-06-15 12:51:33
Permanent URL: https://serc.carleton.edu/download/images/262401/clean_review_process_image_resized.png
The file is referred to in 1 page
Provenance
Krysta Mack
Reuse
This item is offered under a Creative Commons Attribution-NonCommercial-ShareAlike license
http://creativecommons.org/licenses/by-nc-sa/3.0/
You may reuse this item for non-commercial purposes as long as you provide attribution and offer any derivative works under a similar license.